Baphomet Sabbatic Goat Pumpkin Carving Pattern
A truly scary figure for this pattern is Baphomet the Sabbatic Goat. Dating back almost a thousand years, this very spooky and evil deity will give your visitors chills!
Follow the instructions and please be very careful with sharp knives and objects when carving your pumpkin! Safety is the most important thing during the holiday season! Children, please only carve pumpkins with your parents' permission and direct supervision!!
Have fun and Happy Halloween!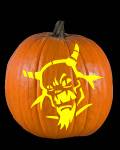 Baphomet Sabbatic Goat Pumpkin Carving Pattern