Bow Tied Teddy Bear Pumpkin Carving Pattern
Aww, try carving this adorable bow tie wearing teddy bear this holiday! Everyone loves cute teddy bears and this one is no exception! If you dont want a scary pumpkin and instead want something warm and fuzzy, try this teddy!
Follow the instructions and please be very careful with sharp knives and objects when carving your pumpkin! Safety is the most important thing during the holiday season! Children, please only carve pumpkins with your parents' permission and direct supervision!!
Have fun and Happy Halloween!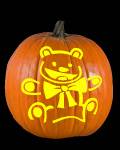 Bow Tied Teddy Bear Pumpkin Carving Pattern