Chinese Dragon Pumpkin Carving Pattern
This is one big mama fire breathing Chinese Dragon! Take great care when carving out the Dragon's flames...you might get burned! What a mighty beast this is who can belch out fire!
Follow the instructions and please be very careful with sharp knives and objects when carving your pumpkin! Safety is the most important thing during the holiday season! Children, please only carve pumpkins with your parents' permission and direct supervision!!
Have fun and Happy Halloween!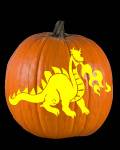 Chinese Dragon Pumpkin Carving Pattern