Cory Crackhead Pumpkin Carving Pattern
See the crack down his forehead? Thats where Cory Crackhead gets his name. He may look goofy but he lurks and lurks until he gets hungry for Halloween candy. When Cory is hungry for candy you'd better get out of his way!
Follow the instructions and please be very careful with sharp knives and objects when carving your pumpkin! Safety is the most important thing during the holiday season! Children, please only carve pumpkins with your parents' permission and direct supervision!!
Have fun and Happy Halloween!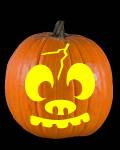 Cory Crackhead Pumpkin Carving Pattern