Crabby Apples Pumpkin Carving Pattern
Do you like apples? Well how about them apples? No definitely not these angry, evil, crabby guys. They're even fighting with each other! Try carving these crabby apples and then everyone get out of the way!
Follow the instructions and please be very careful with sharp knives and objects when carving your pumpkin! Safety is the most important thing during the holiday season! Children, please only carve pumpkins with your parents' permission and direct supervision!!
Have fun and Happy Halloween!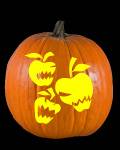 Crabby Apples Pumpkin Carving Pattern