Flying Witch Pumpkin Carving Pattern
The wicked, broom flying witch is making her nightly flight under the moon, searching for bat wings and other ingredients to make her witches brew! Carve out the flying witch with care and don't forget her hat, cape and broomstick!
Follow the instructions and please be very careful with sharp knives and objects when carving your pumpkin! Safety is the most important thing during the holiday season! Children, please only carve pumpkins with your parents' permission and direct supervision!!
Have fun and Happy Halloween!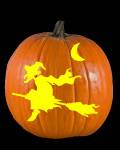 Flying Witch Pumpkin Carving Pattern