Ghostly Knight Pumpkin Carving Pattern
Beware the Ghostly Knight is riding through the night! The fearless horseman is an armored and caped crusader who moves quietly and swiftly. The Ghostly Knight is one of the hardest pumpkin carving patterns to do so take care and take your time- and please be careful!
Follow the instructions and please be very careful with sharp knives and objects when carving your pumpkin! Safety is the most important thing during the holiday season! Children, please only carve pumpkins with your parents' permission and direct supervision!!
Have fun and Happy Halloween!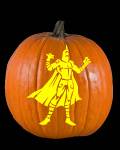 Ghostly Knight Pumpkin Carving Pattern