Giant Ant Pumpkin Carving Pattern
Ants dont look very scary because they are so little and hard to see. But what about the latest species of giant mutated ants?? These are terrifying monster insects that dont look for crumbs, they crush houses and eat whole trees!
Follow the instructions and please be very careful with sharp knives and objects when carving your pumpkin! Safety is the most important thing during the holiday season! Children, please only carve pumpkins with your parents' permission and direct supervision!!
Have fun and Happy Halloween!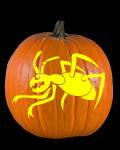 Giant Ant Pumpkin Carving Pattern