Grim Reaper Pumpkin Carving Pattern
Beware of the most famous of all scary figures- the Grim Reaper! The Angel of Death has existed in many societies since the beginning of history. Have the scariest pumpkin on the block with this frightening template!
Follow the instructions and please be very careful with sharp knives and objects when carving your pumpkin! Safety is the most important thing during the holiday season! Children, please only carve pumpkins with your parents' permission and direct supervision!!
Have fun and Happy Halloween!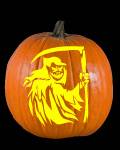 Grim Reaper Pumpkin Carving Pattern