Mister McLantern Pumpkin Carving Pattern
Good eveining to you Mr. McLantern! Mister McLantern is a pipe smoking grump who doesnt much like people in general. Stay away from this old grumpy grampa before he yells at you to get off his lawn!
Follow the instructions and please be very careful with sharp knives and objects when carving your pumpkin! Safety is the most important thing during the holiday season! Children, please only carve pumpkins with your parents' permission and direct supervision!!
Have fun and Happy Halloween!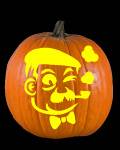 Mister McLantern Pumpkin Carving Pattern