Morris the Monkey Pumpkin Carving Pattern
Meet Morris the Monkey! He's the craziest Halloween monkey around! He's very quick too- if youre not careful he will go into your bag and steal some of your trick or treat candy! Can you say "Ooo Oooh Ahhh Ahh"?!
Follow the instructions and please be very careful with sharp knives and objects when carving your pumpkin! Safety is the most important thing during the holiday season! Children, please only carve pumpkins with your parents' permission and direct supervision!!
Have fun and Happy Halloween!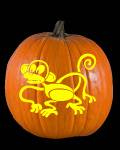 Morris the Monkey Pumpkin Carving Pattern