Poisonous Vine Pumpkin Carving Pattern
Be careful of the fast growing, poisonous vine! Even though it looks pretty and harmless, the poisonous vine will sneak up on you and get you! The poor butterfly doesnt see it coming!
Follow the instructions and please be very careful with sharp knives and objects when carving your pumpkin! Safety is the most important thing during the holiday season! Children, please only carve pumpkins with your parents' permission and direct supervision!!
Have fun and Happy Halloween!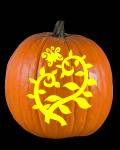 Poisonous Vine Pumpkin Carving Pattern