Spooky Graveyard Pumpkin Carving Pattern
Are you too scared to carve the spooky graveyard? Filled with flying vampire bats and a cloud covered moon, the gravestones are falling over because the ground has been moving! Is something coming up from the grave?
Follow the instructions and please be very careful with sharp knives and objects when carving your pumpkin! Safety is the most important thing during the holiday season! Children, please only carve pumpkins with your parents' permission and direct supervision!!
Have fun and Happy Halloween!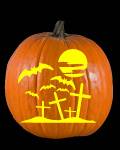 Spooky Graveyard Pumpkin Carving Pattern